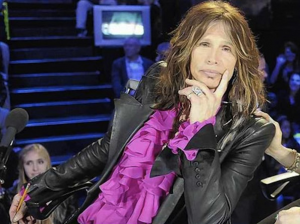 Steven Tyler is going back to his day job. After two seasons as a judge on American Idol, the Aerosmith frontman says he won't be returning to the reality show and will, instead, be focusing once again on his band.
"After some long … hard … thoughts … I've decided it's time for me to let go of my mistress American Idol before she boils my rabbit," the rocker said in a statement Thursday. "I strayed from my first love, Aerosmith, and I'm back – but instead of begging on my hands and knees, I got two fists in the air and I'm kicking the door open with my band."
Tyler's announcement comes amid continued chatter that Jennifer Lopez will not be returning to the popular Fox show. "I am thinking that it's time for me to go," she recently said about tackling a third season.
In making his departure announcement, Tyler also reveals that Aerosmith is releasing a new album on Nov. 6. And he feels revitalized: "The next few years are going to be dedicated to kicking some serious ass," he says in his statement. "Idol was over-the-top fun, and I loved every minute of it. … Now it's time to bring rock back." And his decision is supported by Idol's producers.
What do you like most about Steven Tyler as an 'Idol' judge? Do you prefer him to be rockin' and rollin' with Aerosmith over being an 'Idol' judge? Share your thoughts with us in the comment box below!
Source: People
Image: Venus Buzz