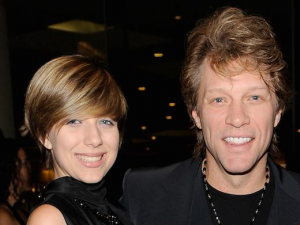 Jon Bon Jovi's 19-year-old daughter Stephanie Rose Bongiovi was arrested at her college in Upstate New York early this morning after allegedly overdosing on heroin … TMZ has learned.
'Unresponsive'
According to the Town of Kirkland Police Department, cops responded to a dorm room at Hamilton College after someone reported that Stephanie had allegedly overdosed on heroin and was unresponsive. Along with police, emergency medical personnel also responded to the scene and found Stephanie alive.
Cops say a drug task force searched the scene and found a "small quantity" of heroin … along with marijuana and drug paraphernalia. Stephanie was arrested for possession of a controlled substance, possession of marijuana and criminally using drug paraphernalia — all misdemeanors. Stephanie was eventually released from custody — and ordered to appear in court at a later date.
'Only daughter'
Another student was also arrested — a 21-year-old male — who was also charged with drug possession.
Stephanie is Jon's only daughter — and the oldest of his 4 children with wife Dorothea Hurley.
This truly is bad news, but we hope you hang in there, sweetheart! But tell us, how do you think has this incident affected Jon Bon Jovi? Will Stephanie Rose Bongiovi be able to kick the habit soon?
Source: TMZ
Image: Zap 2 It