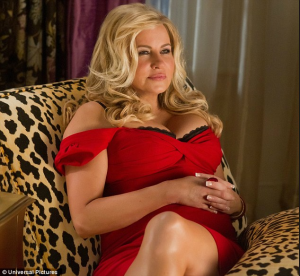 Happy 51st birthday to Jennifer Coolidge. The actress with impeccable comedic timing has starred in dozens of films and numerous TV shows, but for fans of a certain age, she'll always be Stifler's mom (American Pie). Here are six things you didn't know about Stifler's boozy mom.
1. She was in "Seinfeld."
Remember the episode in which Jerry dated the masseuse who refused to give him a massage? That was Ms. Coolidge. In an interview with the Atlanta Journal-Constitution, Coolidge said, "The minute I was on that show, I was able to support myself just acting. It opened so many doors."
2. She did live comedy.
Before making it big as a film and TV star, Coolidge worked with the Groundlings improv group. Castmates included future "Saturday Night Live" stars Will Ferrell and Chris Katan.
3. She rocks at standup comedy.
"Standup is just dirtier, a far more risqué kind of thing…. I talk about the strange stuff guys say when they're trying to get you to sleep with them, I talk about sex, being single again, really weird Hollywood auditions. I think people will be really interested in it and laugh."
4. She was almost a "desperate housewife."
Coolidge came this close to nabbing the role of Lynette Scavo on "Desperate Housewives." The job eventually went to Felicity Huffman.
5. After playing Stifler's mom, life began to imitate art.
In an interview with USA Today, Coolidge remarked, "…As a single woman, I reap the benefits of being Stifler's mom." The character, who tends to go for younger guys, apparently inspires young guys to approach Coolidge. "Never anyone close to my age. Always young guys."
Which of Jennifer Coolidge's portrayal is your favorite? What are the benefits of women dating younger guys? Do share your thoughts and opinions with us!
Source: Yahoo News
Image: Body Building