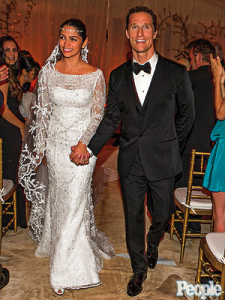 When Matthew McConaughey surprised longtime love Camila Alves with a Christmas Day proposal last winter, he made sure to savor the moment.
"It was the last gift to be opened and I wrapped it in seven different boxes so Camila would have to keep unwrapping," McConaughey tells PEOPLE of the rose-cut Cathy Waterman engagement ring he'd buried inside. "She got the ring, I took a knee and asked her to marry me and take my name. After a bit, she conceded … thankfully."
That vintage-style engagement ring — and wedding bands by Kathy Rose — weren't the only diamonds to dazzle at the couple's June 9 at-home nuptials in Austin, Texas. Completing Alves's collection of bridal jewels were two pieces by Neil Lane: an elegant diamond headpiece and 10-carat earrings, featuring pear-shaped center diamonds, to help give her "a very romantic, soft look," Lane tells PEOPLE. "She wanted to wear her hair back with the glamorous earrings."
The platinum bridal headband, designed initially as a bracelet and accented with pearls and diamonds, "has a beautiful Edwardian, art deco feel," Lane says. "[It's] vintage without being too old-fashioned. It's an exquisite, romantic look."
Do you like Camila and Matthew's vintage wedding? Tell us which accessory of hers was your favorite!
Source & Image: People