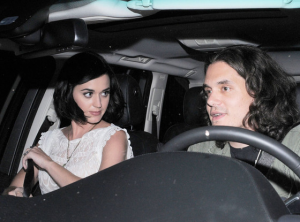 For several weeks there have been rumors that Katy Perry and John Mayer have been going on secret dates. Well, the secret is officially out!
On Wednesday night, the singers were photographed leaving Chateau Marmont, the West Hollywood see-and-be-seen celebrity hotspot. Casually dressed in a green army jacket, Mayer was behind the wheel of a black Land Rover while Perry, looking pretty in a white lace top, sat in the passenger seat. A witness told Us Weekly that Perry and Mayer's night out appeared to be "romantic," noting that they were holding hands and sneaking kisses.
According to reports, earlier in the night Mayer, 34, and Perry, 27, had dinner at Pace restaurant. The Italian eatery must be a Mayer favorite — in the spring, he had a photo shoot there for Martin Guitar. He also brought ex-girlfriend Jessica Simpson to Pace back in 2007. Us Weekly recently reported that Perry has had a longtime crush on Mayer that developed before she met Russell Brand "and finally her dream came true."
This is the first time they have been photographed together, but there have been several Mayer-Perry sightings in recent weeks. On July 19, they attended a party together at Soho House with Us Weekly reporting that they were "affectionate, holding hands and cuddling." The next night, Mayer visited Perry at her home, and they had pizza, according to the magazine.
In a new interview with Elle, which came out yesterday, Perry talked relationships, saying, "I'm a woman who likes to be courted — strongly." Well, it looks like Mayer is up for that challenge!
Do you like the idea of Katy Perry and John Mayer as a couple? Share your thoughts and opinions with us via the comment box below!
Source: Yahoo News
Image: E! Online