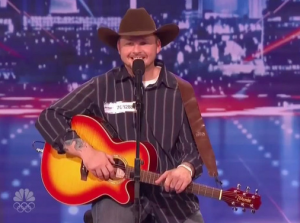 NBC's summer talent show "America's Got Talent" looked like it had found a new star this week in country singer Tim Poe, who came to the stage with a heart-tugging story: He's an Afghanistan war veteran who was injured by a rocket-propelled grenade, suffering brain damage and developing a stutter that he can only suppress while singing. But reports are now surfacing that Poe may have fabricated the whole story.
Reality TV blog Rickey.org first reported that the military records didn't match Poe's story. Poe served with the Minnesota National Guard for nine years (not 14, as he said) as a supply specialist, and they can't find any evidence of the injury he describes. The Associated Press followed up and found the same thing.
Minnesota National Guard spokesman Lt. Col. Kevin Olson told the AP, "We did not find something to substantiate what he said." Olson also noted that Poe did not receive the Purple Heart, an honor given to servicemen injured in enemy combat, as he would have if his story were true. And now Poe's ex-wife is piling on, telling the New York Post she has never heard him stutter.
Poe won over the "Talent" judges and viewers on Monday night with his amazing tale, telling viewers in a taped interview that he suffered a broken back and brain damage while heroically trying to save his fellow troops. He then earned a standing ovation with his heartfelt rendition of Garth Brooks' "If Tomorrow Never Comes."
NBC had no comment on the story, but if proven true, these accusations could turn a feel-good story into a serious scandal for the network. At the very least, it sounds as if someone at NBC didn't do their homework before broadcasting Poe's story into millions of homes. If the story is proven false, should he be removed from the contest?
Source: Yahoo News
Image: Digital Spy