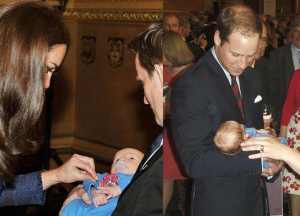 Are Prince William and his wife Kate practicing their parenting skills? The royal couple, who will celebrate their one-year anniversary on April 29, doted on a tiny baby at a party Thursday.
The prince, 29, took the 3-week-old baby, named Hugo Eric Scott, in his arms and told the baby's dad, Vic Vicary, "He looks very sweet." Kate, 30, came over later to chat with the little boy's parents, Vic and Hanna, and remarked that the baby was being "so good" as she admired his Superman-style outfit.
The party marked the end of an expedition to the South Pole. The baby's father, a Warrant Officer Second Class with the Rifles who took part in the expedition, described the Prince as "a natural" with the infant. Of course, all eyes have been on the royal newlyweds to have a baby. A royal source told PEOPLE recently that like any couple, William and Kate "will let nature and life take its course."
In the meantime, William and Kate plan to celebrate their anniversary weekend with friends in the U.K. The couple will likely spend their actual anniversary on Sunday together at home in north Wales. The quiet, private day is a world away from their wedding of last April 29 when the world watched them say "I do."
Do you think it's about time that the Royal Couple start having children already? Tell us your name suggestions!
Source: People
Image: The Sun