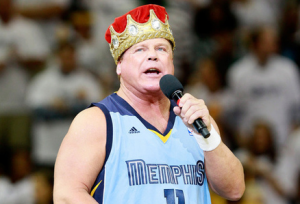 World Wrestling Entertainment announcer Jerry "The King" Lawler was in stable condition after suffering a heart attack, WWE said. Lawler, a larger-than-life figure even within the flamboyant world of professional wrestling, suffered a heart attack and collapsed during a show Monday night, the show's producers announced.
Lawler, 62, was given CPR in the locker room of the arena in Montreal before being taken to a hospital, co-host Michael Cole told viewers during a break in the televised program. Lawler was in the emergency room and breathing on his own, but "this is an extremely serious situation. This is not part of tonight's entertainment," he said. "This is a real-life situation."
Lawler made his name in wrestling in the 1970s, but he became famous beyond the wrestling world for a 1982 bout with comedian Andy Kaufman. Kaufman, who had begun wrestling women during his nightclub act, accepted a challenge from Lawler, who accused him of demeaning the sport. Kaufman trash-talked both the wrestler and the crowd in Memphis, Tennessee, before the match, and the 6-foot, 243-pound Lawler trounced the skinny comedian, who was hauled away in a stretcher.
A few weeks later, the pair appeared on "Late Night with David Letterman" and got into an argument that ended with Lawler slapping Kaufman, followed by Kaufman delivering a profanity-laced tirade and being chased off the set. Lawler lists the slapping of Kaufman on the Letterman show as the highlight of his career. But like much of Kaufman's shtick, the feud was an elaborate put-on.
"We are hopeful Jerry makes a full recovery and returns to WWE in the near future. Our thoughts are with Jerry and his family," the WWE said on its website.
Will Jerry Lawler take a long rest from his career after he makes a full recovery from his on-air heart attack? Have you ever assisted a heart attack victim on the spot? Share your thoughts with us!
Source: CNN
Image: MMA Mania