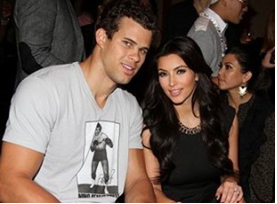 Kris Humphries thinks he was duped by Kim Kardashian. Do you think he's right? He is indeed one angry dude. The 26-year-old NBA pro thinks Kardashian defrauded him into getting married, which is the reason he now wants an annulment, reports TMZ.
The story explains how this annulment is Kris' way of getting money out of Kim. Although the couple had a prenup, Kris claims there were "community and quasi-community assets." He also wants Kim to pay for his legal fees.
Beverly Hills attorney Mark McBride tells HollywoodLife.com, "As for any financial gain Kris can gain from this, it's easy. If he can show that the marriage was a con on her part then that can throw doubt in the legitimacy of the pre-nuptial agreement. He then could sue her for damages… If he keeps this in the public eye, it doesn't make her look good," he explains. "…He could be jamming her up for a little more cash."
Kim filed for divorce on 72 days after tying the knot in a $15 million wedding that was broadcast on E!. Despite her and her family's claims the relationship was real, there are tons of skeptics who believe the entire ordeal was staged for money — and it sounds like Kris is buying it now too.