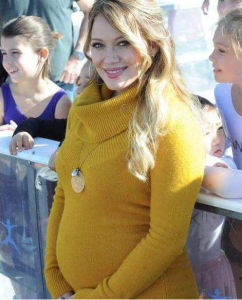 Life's a beach for Kristin Cavallari: Not only is the former Laguna Beach star engaged to Jay Cutler and expecting their first child, but the pregnancy has been total smooth sailing.
But despite her seemingly easy start to motherhood, Cavallari never pictured herself with children at such a young age: "It's so crazy to look at your life and see how far you've come," she says. "I always wanted kids, but I always thought I would have kids later on in life, maybe when I turn 30."
And although Cavallari and Chicago Bears quarterback Cutler "weren't trying to have kids," the mom-to-be admits they weren't not trying, either. Once determined to focus on her career, Cavallari admits tides have certainly changed since meeting her future husband. Now, the expectant parents are contemplating holding off on marriage — and going for a second baby carriage.
"We're talking about the possibility of having another kid right away and then getting married so we can have two kids close in age," the reality star reveals. "We want four kids, so we're thinking maybe have one more, then get married, then have two more, but we'll see, it all depends on how the first one goes."
"I will live in Chicago half the year, then Nashville for the other half. I'll come to L.A. whenever I need to," she shares. "We both don't want to raise our kid with paparazzi and cameras in our face. We want to give them as normal of a life as possible."
Source: People
Image: Celebritrust