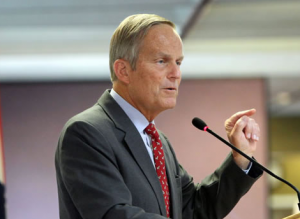 The truth is the "legitimate rape" comment made by U.S. Rep. Todd Akin — as in pregnancy from "legitimate rape" is rare — is not a GOP anomaly but rather another disturbing glimpse into the viewpoint too many social conservatives have about women's health and reproductive rights.
Last March, in a discussion in the Kansas House about whether women purchase separate abortion-only policies, Republican state Rep. Pete DeGraaf suggested women should plan ahead for rape the way he keeps a spare tire. A few weeks later, Indiana state Rep. Eric Turner, a Republican, said some women might fake being raped in order to get free abortions.
Former presidential hopeful Rick Santorum suggested doctors who perform an abortion on a woman who becomes pregnant from an attack should be thrown in jail and this year suggested rape victims who become pregnant from an attack should be forced to keep the baby and "make the best out of a bad situation."
And we're to believe Akin is just a one-off. Please. More than 200 Republican members of Congress joined him in co-sponsoring House Resolution 3, the No Taxpayer Funding for Abortion Act, when it contained language restricting the exception for federally funded abortions to "an act of forcible rape or, if a minor, an act of incest." Forcible rape. That's not too far from "legitimate rape."
Some social conservatives talk of protecting religious freedom, but what they are really seeking is a theocracy that places limits on freedom based on a version of Judeo-Christianity that fits their liking. Some speak of fighting abortion because of their religious convictions and then belittle the trauma caused by rape. They think they can make this controversy all about Akin, as if Ryan's legislative history is just going to disappear. As if DeGraaf never suggested women should plan ahead for rape the way he keeps a spare tire. As if none of us are paying attention. But we are.
What is your point of view regarding all the buzz about this "legitimate rape" issue? Are you for or against abortion ban? Shout out your thoughts via the comment box below!
Source: CNN
Image: Scrape TV