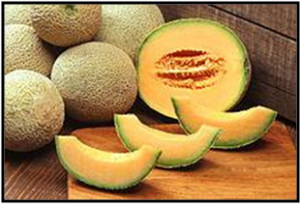 A melon farm in Arkansas Valley of Colorado has issued a voluntary recall of its cantaloupes after a Listeria outbreak killed 4 and sickened 16 people from different states in the U.S.
According to the Center for Disease Control and Prevention, the deaths from the Listeria outbreak were from Colorado and New Mexico. State health departments said more deaths could be confirmed when they get the results of the testing.
The CDC also named the states where the 22 people were infected: Colorado, Indiana, Nebraska, New Mexico, Oklahoma, Texas, and West Virginia.
"We've had [more than 10] cases in Colorado since August 1 that are now linked to the multi-state outbreak," said Mark Salley, communications director at the Colorado Department of Public Health and Environment. "Typically, Colorado sees about 10 cases of Listeria per year, so when we saw so many since August 1, we knew that was significant and decided to look into the multi-state nature of the illness."
A couple was expected to file the first lawsuit related to the outbreak after the husband ate a Jensen cantaloupe and got sick. Test results showed that he was positive for listeriosis and he now remains hospitalized.
One of the Colorado farm's Rocky Ford cantaloupes tested positive for the bacteria, said Jensen Farms spokeswoman Amy Philpott on Thursday. However, they still need to run more tests to determine if the same strain was indeed linked to the said outbreak. The farm provides 40 percent of the area's cantaloupes.
Jensen Farms revealed that more than 300,000 cases of cantaloupes were shipped somewhere between July 29 and September 10 and were distributed throughout 18 states — Colorado, Utah, Wyoming, Nebraska, Kansas, Texas, Oklahoma, New Mexico, Arizona, Illinois, Minnesota, Missouri, Tennessee, North Carolina, New Jersey, New York, and Pennsylvania.
The Jensen Farms whole cantaloupes have a green and white sticker which read, "Product of USA – Fontera produce – Colorado Fresh – Rocky Ford" or a gray, yellow and green sticker that reads "Jensen Farms – Sweet Rocky Fords."
"Jensen Farms continues to stay committed to the highest levels of food safety and maintains many third party safety audits, as we have for many years," said Ryan Jensen, a partner at Jensen Farms. "We continually look for ways to enhance our protocol."
According to a statement released by FDA on Tuesday, they are working closely with the CDC and state health officials to investigate and monitor the multi-state Listeria outbreak.
"Both FDA and state public health officials have collected product and environmental samples," the statement said. "Laboratory testing is under way."
Listeria is a rare and serious illness caused by eating food that is contaminated with the bacterium Listeria monocytogenes. It is characterized by fever, muscle aches, loss of balance, convulsions, stiff neck, diarrhea, and confusion. It mostly affects older adults, pregnant women, newborns and those with weak or compromised immune systems. A person without these risks is rarely infected. Most of the time, the infection spreads to the gastrointestinal tract, and it can cause miscarriages and stillbirths in pregnant women.
Listeria is found in soil, water, and foods of animal origins, and can live in a food processing factory for up to 40 years. It has been found in uncooked meats and vegetables, soft cheeses, processed meat like hot dogs and deli meat, smoked seafood, and unpasteurized raw milk and cheeses.
The CDC says that out of the estimated 1,600 people who become seriously ill with listeriosis every year, 260 of them die. The infection is diagnosed through blood or spinal fluid test. If antibiotics are given promptly, the infection can be cured and infection in the fetus can be prevented. However, some infections are still fatal even with treatment.