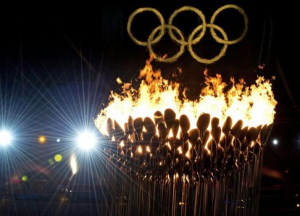 The London 2012 Olympics have ended with a spectacular musical closing ceremony and the official handover to the next host city, Rio de Janeiro. The three-hour show featured some of the biggest names of British pop from decades past, including the Spice Girls, George Michael and Elbow. The official Games flag was handed to the mayor of Rio before the flame at the Olympic Stadium was extinguished.
At the close of the ceremony, watched in the stadium by the 10,000 athletes and 80,000 spectators, the flame was extinguished in dramatic fashion. Each nation will receive one of the cauldron's 204 petals. As fireworks went off above the east London stadium, the Who performed My Generation and the venue became a sea of red, white and blue confetti.  The finale, which began with Big Ben chiming, paid tribute to UK music, fashion and culture.
The show saw the Spice Girls re-form to sing Spice Up Your Life from the top of five London taxis, and a surprise performance from Take That, who sang their hit Rule the World. Artistic Director Kim Gavin also brought together household names, including George Michael, Jessie J, Emeli Sande, Madness, the Pet Shop Boys, One Direction, Ray Davies and Liam Gallagher, as the best of British music went on show to the world.
During the ceremonial part of the show, the Olympic flag was waved aloft by London Mayor Boris Johnson and passed by Mr Rogge into the hands of the Mayor of Rio, Eduardo Paes. As is traditional during the closing ceremony, the final medals of the 2012 Olympics were handed out. The 70,000 Games Maker volunteers were also thanked for their hard work during the 16 days of competition.
The Games ended with the US topping the final medal table with 46 golds, followed by China with 38 golds. GB came third with 29 golds – their best tally since 1908. In all, 44 world records have been set during London 2012, and 117 Olympic records broken.
Which part of the London 2012 Olympics closing ceremony was your favorite? Share your most memorable Olympic moments with us!