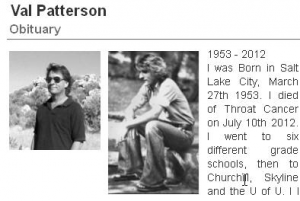 Val Patterson said his life motto was "Anything for a laugh." And after the 59-year-old died of throat cancer last week, he owned up to a few humorous events from his life.
First up, the former engineer admits he never earned the advanced degree from the University of Utah that gained him entrance to his chosen professional career: "What happened was that the day I went to pay off my college student loan at the U of U, the girl working there put my receipt into the wrong stack, and two weeks later, a PhD diploma came in the mail. I didn't even graduate, I only had about 3 years of college credit. In fact, I never did even learn what the letters 'PhD' even stood for."
Patterson's other confessions appear to stem from his youth. He admits, "I AM the guy who stole the safe from the Motor View Drive Inn back in June, 1971." And to top it off, Patterson seems to have had a string of run-ins with theme park officials over the years, writing: "To Disneyland – you can now throw away that 'Banned for Life' file you have on me, I'm not a problem anymore – and SeaWorld San Diego, too, if you read this."
Patterson wraps up his final words with a somber note on how his cigarette habit deprived him of more years with his family. But it's also clear that he loved life while he was here and was determined to go out with one last laugh. And his wife, Mary Jane, confirmed to KSL-TV that all of the confessions were true.
Did you enjoy reading Val Patterson's humorous confessions? Share your opinions about this story in the comment box below!
Image: Fox 8 Live