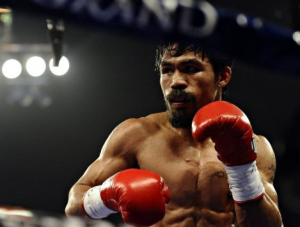 It's not too often a boxer blasts the President of the United States, but it's also not too common that an active fighter gets elected to Congress. But boxing superstar Manny Pacquiao, a freshman congressman from Sarangani Province in the Philippines, laid into President Obama because of Obama's support for gay marriage.
In an interview with the National Conservative Examiner, Pacquiao criticized Obama's stance as an attack on the will of God.
"God only expects man and woman to be together and to be legally married, only if they so are in love with each other.

"It should not be of the same sex so as to adulterate the altar of matrimony, like in the days of Sodom and Gomorrah of Old."
Pacquiao is entitled to his beliefs, but he looked a bit hypocritical when it turned out that his wife, Jinkee, nearly divorced him in November. The Los Angeles Times last week reported that trainer Freddie Roach said Jinkee Pacquiao served divorce papers upon her husband shortly before his fight with Juan Manuel Marquez. Subsequently, Pacquiao said he had a religious "awakening," and has been deep into Bible study. Roach told the Times that Pacquiao also sold a casino he owned. He's also no longer into cock fighting.
Pacquiao ran for Congress because of his desire to help his countrymen, many of whom live in dire poverty. He's done more for his countrymen than most people have ever done for theirs, and he's to be commended for that. It's why he's one of the world's most popular athletes.
But his condemnation of Obama's stance on gay marriage would not look as suspect as it does, though, if he wasn't living such a promiscuous lifestyle only a few months ago. The timing of his comments could have been better, after he demonstrated that his recent behavior and attitude changes aren't simply short-term fixes but more permanent and fundamental in nature.
Do you agree with Pacquiao's views, or with Obama's? Tell us what you think!
Source: Yahoo News
Image: Cath News USA