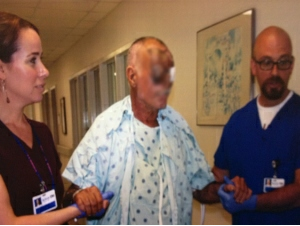 Doctors at Jackson Memorial Hospital in Florida have released photos of Ronald Poppo, the homeless man who had significant portions of his face bitten off on May 26 during an attack by the "Causeway Cannibal," Rudy Eugene.
Poppo is said to be awake and alert, while doctors continue to treat his injuries. The hospital has set up a donation fund for Poppo. If you'd like to donate to Poppo's recovery, you can do so directly at the Jackson Memorial Foundation website that the hospital has set up in his name. So far, the donation effort has reportedly raised $15,000 for Poppo's recovery.
CBS4 Miami reports that Jackson Memorial has released a photo of Poppo walking down a hospital hallway with the assistance of hospital staff. The photo at the link to the news story blurs Poppo's face but does provide an additional link to extremely graphic photos of his face. We've chosen to give readers an opportunity to contribute to Poppo's recovery fund rather than to focus on the sensational and disturbing nature of the pictures.
Doctors said during a Tuesday press conference that while Poppo lost his nose and one of his eyes during the attack, they are hopeful that he will regain some vision in his remaining eye. Doctors said that Poppo lost about 50 percent of his face in the attack, not the 75 percent that was previously reported. They described Poppo as "very charming and positive," according to CBS.
The nonprofit organization Neighbors 4 Neighbors is also accepting donations on Poppo's behalf and can be reached at (305) 597-4404. And finally, Jackson Memorial is also accepting donations via check at the following address:
Jackson Memorial Foundation
Park Plaza East
Suite G
901 NW 17th Street
Miami, FL 33136
Given Poppo's present situation and disposition, do you think he will be able to fully recover from the trauma that he has been through? Will you be donating a couple of bucks for his treatment?
Source: Yahoo News
Image: CBS Miami