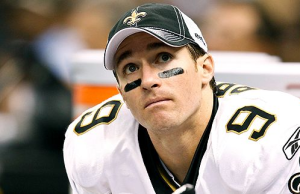 Drew Brees, who just recently sued a former teammate, found out the hard way that you have to be careful trusting others with your money.
'Mishandled'
The New Orleans Saints superstar has taken legal action against Kevin Houser, as the former long snapper and teammate of Brees allegedly advised the quarterback to invest $160,000 in false tax credits, according to Michael Kunzelman of the Associated Press:
The suit filed on Brees' behalf in federal court claims former Saints long snapper Kevin Houser, a licensed securities broker, mishandled the star quarterback's money and failed to disclose his own financial interests in the investments he was promoting.
'Joint lawsuit'
It seems Brees was reluctant to take his former colleague to court, because he was one of the last to add his name to a joint lawsuit that includes teammates and coaches who reportedly invested about "$2 million to buy nonexistent tax credits from a defunct movie studio."
Brees, according to his lawyer Daniel Becnel Jr., wanted to settle this away from the courtroom, but decided in the end to sue the 35-year-old who was an active member of the Saints from 2000-07.
Have you ever been financially duped by a friend? Was Drew Brees right in suing Kevin Houser?
Source: Gabe Zaldivar, Bleacher Report
Image: Bloguin