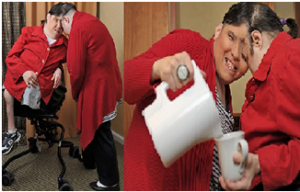 The world's oldest living conjoined twins, George and Lori Schappell, have defied doctors' predictions and will be celebrating their 50th birthday on Sunday with a trip to London.
The Pennsylvania female twins share 30 percent of their frontal lobe, brain tissue and blood vessels. Because of this, they cannot be separated. Despite being conjoined at the head, they insist that they live normal and separate lives.
Lori stands 5 ft 1 in and is a champion ten-pin bowler. She has enjoyed sexual relations with men since she was 23 and was engaged five years ago. Unfortunately, just four months before the wedding, her fiancé was killed by a drunk driver and this was a devastating experience for her but George took good care of her until she got through her heartbreak.
"When I went on dates, George would bring along books to read and, as we don't face each other, he could ignore any kissing. I don't see why being a conjoined twin should stop me having a love life and feeling like a woman," a happy Lori shared.
George, who was originally named Dori, decided to live as a man and even dress like one. Standing 4 ft 4 in, George suffers from spina bifida, which caused severe mobility problems. She has to sit on a wheelchair-type stool which Lori has to push all the time so they can move together. Her successful music career in the States won her an L.A. Music Award for Best New Country Artist and took the twins to performances all over the world, including Japan and Europe.
"When we were born, the doctors didn't think we'd make 30 but we proved them wrong," said Lori. "We have learned so much in the last 50 years and will continue living life to the full."
"Most people don't believe us but we do have very normal lives," George shared. "We travel, tidy our flat, and Lori even had a boyfriend. Nothing stops us doing what we want."
After they were born, a court decided that their parents could not care properly for them. They were placed in an institution for patients with severe mental disabilities although neither of them had such disabilities.
"There was absolutely nothing wrong with us, apart from physically," Lori said. "But people didn't know any better. We learned to look after ourselves at a very young age and got excellent grades at school."
When the turned 21, they legally fought with the institution so that Lori could attend secretarial college and they won.
"We had to prove we could live on our own and we were finally allowed to be independent," Lori recounts. "Now we have a two-bedroom flat and alternate nights we sleep in each other's rooms. My room is much more girly and reflects my personality, while George has all his music posters."
Aside from their birth defect, the twins also endured a secret between them for many years.
"I have known from a very young age that I should have been a boy," George admitted. "I loved playing with trains and hated girly outfits. I kept my desire to change sex hidden, even from Lori, for many years."
It was only four years ago that George admitted all these and began living as a man. Although he didn't have a sex change, she now dresses and introduces herself as a man.
"It was so tough, but I was getting older and I simply didn't want to live a lie. I knew I had to live my life the way I wanted," George said.
The famous pair has been featured in television documentaries and talk shows. They also appeared on the hit American TV drama Nip/Tuck.