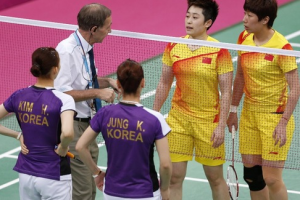 The Badminton World Federation has charged eight female Olympic doubles players with "not using one's best efforts to win a match". Four pairs of players – two from South Korea, one from China and one from Indonesia – could be disciplined.
China's Yu Yang and Wang Xiaoli and South Koreans Jung Kyung-eun and Kim Ha-na were among those accused. Earlier, their match was booed by spectators at Wembley Arena. Both pairs were already through to the quarter-finals. Reports have suggested they both wanted to lose to secure an easier draw. The South Koreans eventually won their match, to go on to play China's Tian Qing and Zhao Yunlei. The South Korean pair did not comment, but Yu said she and Wang were saving energy for the knockout stages.
The longest rally in the first game lasted four shots, with match referee Thorsten Berg coming on to court at one point to warn the players. And a later match between South Korean third seeds Ha Jung-Eun and Kim Min-Jung and Indonesian pair Meiliana Juahari and Greysia Polii is also under scrutiny by the Badminton World Federation.
Both pairs of those teams had also already qualified for the knockout stages, with the winner of Group C to play Yu and Wang and the Korean pairs to face each other if Ha and Kim lost. The Koreans eventually won by two sets to one.
A statement from the BWF confirmed that all four pairs would face charges of "not using one's best efforts to win a match" and "conducting oneself in a manner that is clearly abusive or detrimental to the sport".
Do you believe that these female badminton players were deliberately trying to lose in the said games? Tell us what you think of their game efforts!
Source: BBC News
Image: iTV News