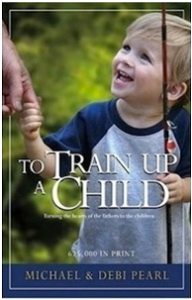 Tennessee pastor Michael Pearl came under fire after several children have died in the recent years due to extreme corporal punishment inflicted by parents who seriously followed his controversial parenting advises in his book.
Pearl, 66, and his wife Debi, 60, said that the systematic use of "the rod" is effective in disciplining children. Their self-published book of 670,000 copies, To Train Up a Child, contains instructions on how to hit six-month-old children with a switch, and other things such as a quarter-inch flexible plumbing line. Pearl says older children should be hit with a belt, wooden spoon or willow switch. These methods are based on "the same principles the Amish use to train their stubborn mules."
In September, Larry and Carri Williams of Sedro-Woolley, Washington were charged with homicide by abuse after their adopted daughter Hana, 11, died from hypothermia and malnutrition. She was found naked and emaciated in their backyard. Hana, originally from Ethiopia, had been deprived of food for days and was forced to sleep in an unheated barn. Heeding Pearl's advice — "a little fasting is good training" — the couple beat Hana with a plastic tube. Carri even gave a copy of the book to a friend.
Although the Pearls aren't being charged, Dr. Frances Chalmers suggested that their teachings have indeed influenced Hana's death. Dr. Chalmers is a state pediatrician who examined Hana's death. She fears that the book, "while perhaps well intended, could easily be misinterpreted and could lead to what I consider significant abuse."
Another notable case is that of Lydia schatz, who was adopted from Liberia at 4 years old by Kevin and Elizabeth Schatz from Paradise, California. Last year, her parents had whipped her for hours, with pauses for prayer. She died at 7. Her parents are now serving long prison terms. Kevin pleaded guilty to second-degree murder and torture, while his wife pleaded to voluntary manslaughter and unlawful corporal punishment. They also owned a copy of the Pearls' book.
In 2006, Sean Paddock from Johnson County, N.C. died from suffocation at the age of 4. He had been wrapped tightly in a blanket. His mother, Lynn Paddock, was charged with first-degree murder. According to Sean's siblings, they were beaten every day with a plumbing tube. Lynn had come across the Pearls' website and followed their recommendations.
The Pearls write that the Bible wants corporal punishment to be implemented: "To give up the use of the rod is to give up our views of human nature, God, eternity." In addition to that, Michael Pearl says that he is not responsible for the deaths of those children. The conservative Christians agree with them.
"If you find a 12-step book in an alcoholic's house, you wouldn't blame the book," he told the Times.
However, other Christians like Crystal Lutton seem to oppose their view. Lutton runs a Christian blog that denounces corporal punishment, saying the Pearls' method put the children at big risks. Some Christian groups are campaigning to prevent booksellers such as Amazon from selling the Pearls' book.
Corporal punishment is making big waves in the news lately. In the previous week, a woman from Texas uploaded a video on YouTube showing her father whipping her with a belt when she was still a minor.