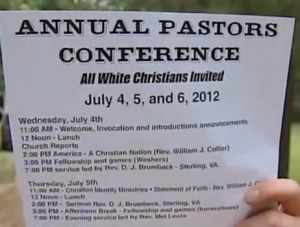 A controversial pastor's conference welcoming only "white Christians" is underway in Lamar County, Ala., upsetting residents of the nearby town of Winfield in the western part of the state.
Christian Identity Ministries is holding a three-day conference for so-called "white Christians" who contend they have been treated unfairly, the Rev. Mel Lewis told local TV station WSFA. Lewis, the organizer and keynote speaker, says they have the right, like any other Americans, to worship how they wish.
Ku Klux Klan flags and white supremacy slogans surround the conference, which will conclude with a cross being set on fire Friday night. Organizers say it's not a cross-burning, but rather sacred Christian cross lighting.
"We are not breaking any laws. We're not violating any ordinances. We're bringing the Word of God to people who want it, obviously, or they wouldn't be here," Lewis told the TV station.
The mayor of nearby Winfield said residents are upset, and the event does not represent their town in any way. Organizers say their ministry is not a hate group and that although there is a strong KKK presence, the Klan did not sponsor the event.
What can you say about Pastor Lewis' "Whites-Only" conference? Does it radiate racism for you? Or are they merely exercising their freedom to "worship how they wish"? Air out your opinions in the comment box below!
Image: Free Speech Wisconsin