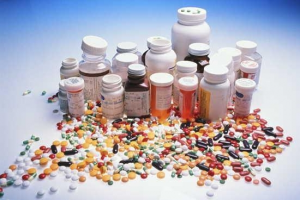 A "polypill" combining a statin with blood pressure drugs could prevent thousands of heart attacks and strokes every year, according to researchers.
A UK study of 84 over-50s, published in the journal PLoS One, showed the pill could cut blood pressure and levels of "bad" cholesterol. They called for the pill to be made available "as a matter of urgency". The British Heart Foundation called for more research and said pills were not a substitute for a living a healthy life.
This study at Queen Mary, University of London investigated a polypill containing a statin and three blood pressure drugs, all of which are already widely used. Patients were given either a polypill or a dummy pill once a day for three months. Their treatments were then swapped so that over a six-month period they would have spent half the time taking the drug and half the time taking the sugar pill. The results suggested the polypill reduced blood pressure by 12% and LDL cholesterol by 39%.
The doctors calculated that if half of the over-50s in the UK took the daily pill, it would prevent 94,000 heart attacks and strokes each year. Dr David Wald, consultant cardiologist, said the trial represented a "milestone" and called for regulatory bodies to approve the polypill "urgently". European and Canadian patents for a polypill are held by David Wald's father, Prof Nicholas Wald. The study did not test the safety of the drug, but the researchers say all the components of the polypill have been used for decades.
The polypill does not contain aspirin, which is already taken by some people to reduce their chances of a heart attack or stroke. It is thought the risk of causing internal bleeding outweighed those benefits for people with no history of cardiovascular disease.
Do you think this "polypill" could work? Should the researchers conduct safety tests for this drug right away and make it available in the market?
Source: BBC News
Image: Giz Factory