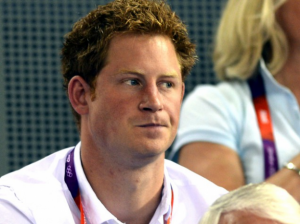 Nude photos of Prince Harry partying in a Las Vegas hotel room are causing another royal headache for the British monarchy. Buckingham Palace confirmed on Wednesday that the pictures of the 27-year-old naked prince playing pool in a hotel suite, posted by TMZ.com on Tuesday, are real.
According to TMZ, the pictures were taken Friday after Harry and his entourage went down to the hotel bar and invited the unidentified women back to his hotel suite and engaged in a game of "strip pool." In one of the images, Harry is seen standing and covering his genitals with his hand; in another, the prince is bear-hugging a naked woman.
Sources told ABC that Harry—who was heavily involved in London's Olympic hosting duties—"has been on holiday with friends, letting off steam before the next phase of his military duties." According to the BBC, the palace said it would be making no further comments about the nude images. But the "Hangover"-like shots of Harry, third in line to the British throne, have nonetheless called into question the prince's royal judgment.
"Everybody knows better than to party naked in a room full of strangers without confiscating the cellphones," ABC News public relations consultant Howard Bragman said. "That's just Hollywood 101. There's always deniability, but once the photos are taken, you're caught."
Harry's been in trouble before. In 2005, the "playboy prince" apologized after a photograph taken at a costume party showed him wearing a Nazi uniform. In 2002, Prince Charles sent Harry, then 17, to rehab after he admitted smoking marijuana and getting drunk in a pub near the royal family's country estate—which earned him the nickname "wild child."
In recent years, though, Harry has made an effort to shed his "wild" image, taking on more royal responsibility—including a solo tour of the Caribbean and Brazil in May.
What bearing could Prince Harry's recent wild romp in Vegas have on his military and royal standing? Was this partying behavior understandable or way too reckless? Share your opinions with us!
Image: iVillage