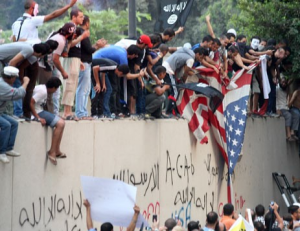 The United States said it was taking measures to protect its citizens worldwide after protesters angry about an online film considered offensive to Islam attacked U.S. diplomatic compounds in Libya and Egypt on Tuesday.
In Cairo, several men scaled the walls of the U.S. Embassy and tore down its American flag, according to CNN producer Mohamed Fadel Fahmy, who was on the scene. In Libya, witnesses say members of a radical Islamist group called Ansar al-Sharia protested near the U.S. Consulate in Benghazi. The group then clashed with security forces in the city, blocking roads leading to the consulate, witnesses said.
A U.S. State Department officer was killed in the violence in Benghazi, Secretary of State Hillary Clinton said in a statement late Tuesday. Clinton said that she condemned the attack on the U.S. facilities "in the strongest terms." Libya's General National Conference also condemned the attack.
"One such breach of an embassy or consulate's walls or security on any given day would be tremendous news. … The fact that two of them happened on the same day that is the 9/11 anniversary where Americans are remembering those that we lost, you have to ask yourself, what are American officials trying to understand about this and whether or not these two are related?" she asked.
Egyptian groups point to U.S. websites, including YouTube, that have scenes from the film. Some anti-Muslim blogs also have flagged the movie. In a series of disjointed scenes, filmmakers depict Prophet Mohammed as a child molester, womanizer and ruthless killer. Most of the Muslim world considers depictions of Mohammed to be blasphemous and deeply offensive. It was not clear late Tuesday who produced the film and under what auspices.
Several individuals claimed responsibility for organizing the demonstrations Tuesday, including Salafist leader Wesam Abdel-Wareth, who is president of Egypt's conservative Hekma television channel.
Do you think these attacks in the U.S. diplomatic compounds are related to the 9/11 anniversary? What is your opinion regarding the offensive anti-Islam film?
Source: CNN
Image: ABC News