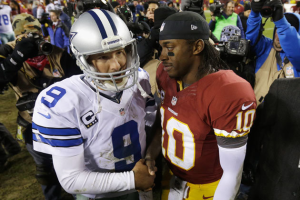 In the immediate aftermath of Sunday night's win-or-go-home season finale between the Redskins and the Cowboys, the victorious Robert Griffin III sought out vanquished Cowboys QB Tony Romo and offered up advice worthy of a veteran. Here, per our new pals at Pro Football Talk, is a transcript:
'You're a great quarterback'
"Hey Tony. I just wanted to say to you, don't listen to what anybody else is saying about you. You're a great quarterback, man. And this game doesn't mean anything."
The comments will be part of Wednesday night's "Inside the NFL" on Showtime.
'Knows what he's doing'
Look, in and of themselves, RG3's words aren't that big a deal; it's the kind of stuff that players say to one another all the time. Easy to be gracious in victory, and all that. But Griffin has already proven that he's a cut above the usual callow rookie stock, and stories like this, coming as they do on the heels of a playoff berth, only add to his legend. The kid knows what he's doing.
Do you like RG3's classy attitude in both victory and defeat? Tell us what you think of his words of comfort for Tony Romo!
Source: Jay Busbee, Yahoo Sports
Image: Black Sports Online