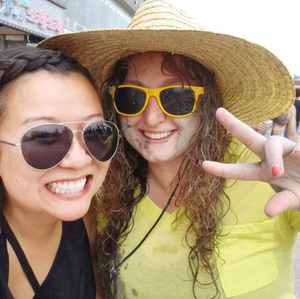 Kari Bowerman, 27, and Cathy Huynh, 26, were backpacking in Vietnam while on break from their jobs teaching English in South Korea. On July 30, the friends were admitted to Khanh Hoa General Hospital in Nha Trang. Both were vomiting, had difficulty breathing and showed signs of severe dehydration. Huynh was eventually released from the hospital. She returned later that night to hear the devastating news — three hours after being admitted, Bowerman had gone into respiratory failure and died. Two days later, Huynh was dead.
The travelers' stories are just the latest in a string of mysterious tourist deaths in Southeast Asia. Investigators with the World Health Organization suspect poisoning is to blame, but determining the origin has proven difficult.
In February 2011, New Zealand resident Sarah Carter, 23, died in Chiang Mai, Thailand, after arriving at a local hospital with low blood pressure, difficulty breathing and dehydration from vomiting, according to the New Zealand television network TV3.
In 2011, TV3 traveled to Chiang Mai, Thailand, to search for evidence in the Sarah Carter case. Show producers spoke with Dr. Ron McDowall, a United Nations toxic chemical consultant, who had reviewed Carter's pathology reports and believed she died of pesticide ingestion. The swabs collected by TV3 in the Downtown Inn showed moderate levels of chlorpyrifos, McDowall told CNN in an email last week.
According to the Environmental Protection Agency, chlorpyrifos can cause nausea, dizziness, confusion and, in high levels, respiratory paralysis and death. The chemical is banned for use in homes and hotels in most countries, McDowall said. Yet it's still legal in Thailand and Vietnam, he said, and was included in the pesticide sprayed in the Downtown Inn. Vietnamese authorities have released very little information about the cause of death for Bowerman and Huynh. Investigators might know more when autopsy results come back in a couple of weeks.
Do you think pesticide poisoning is the cause of the string of tourists' deaths in Asia? How should these issues be addressed?
Source: CNN
Image: The Spec