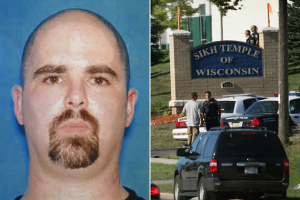 An Army veteran who neighbors say played in a far-right punk band was the lone shooter in the rampage at a Sikh temple in Wisconsin that killed six people and wounded four, according to information Monday from law enforcement authorities. Wade Michael Page, 40, was shot to death by police responding to the Sunday morning attack in the Milwaukee suburb of Oak Creek, the community's chief of police told reporters.
"These kinds of terrible and tragic events are happening with too much regularity for us not do some soul-searching and examine additional ways that we can prevent" such violence, President Barack Obama told reporters when asked about the Wisconsin shooting at a White House bill-signing ceremony.
However, New York Mayor Michael Bloomberg criticized Obama and certain Republican presidential nominee Mitt Romney for not advocating tougher laws to prevent dangerous people from obtaining guns.
The gunman shot people inside and outside the Sikh house of worship, including a police officer, Oak Creek Police Chief John Edwards said. Another police officer with a rifle then shot the gunman, who died at the scene. According to Edwards and the FBI, authorities have received tips that Page might have links to the white supremacist movement, but nothing had been confirmed. Authorities are following up on numerous leads and are still reviewing exterior videos of the temple. Investigators haven't identified a known motive.
Because of their customary beards and turbans, Sikh men are often confused with Muslims, and they have been the targets of hate crimes since the 9/11 terrorist attacks on New York and Washington.
The six victims of Sunday's attack were identified by police as five men — Sita Singh, 41; Ranjit Singh, 49; Satwant Singh Kaleka, 65; Prakash Singh, 39, and Suveg Singh, 84 — and one woman, 41-year-old Paramjit Kaur. Two other Sikh victims remained hospitalized in critical condition, while a third was treated and released.
Do you agree with New York Mayor Michael Bloomberg that the U.S. needs to implement tougher laws for obtaining guns to prevent or minimize these seemingly senseless cases of violence? Give us a holler in the comment box below!
Source: CNN
Image: K2 Radio