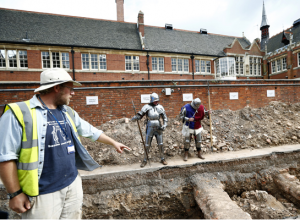 Archaeologists searching for the grave of Richard III have said "strong circumstantial evidence" points to a skeleton being the lost king. The English king died at the battle of Bosworth in 1485.
A dig under a council car park in Leicester has found remains with spinal abnormalities and a "cleaved-in skull" that suggest it could be Richard III. The University of Leicester will now test the bones for DNA against descendants of Richard's family. A university spokesperson said the evidence included signs of a peri-mortem (near-death) trauma to the skull and a barbed iron arrow head in the area of the spine. Richard is recorded by some sources as having been pulled from his horse and killed with a blow to the head.
The skeleton also showed severe scoliosis – a curvature of the spine. Although not as pronounced as Shakespeare's portrayal of the king as a hunchback, the condition would have given the adult male the appearance of having one shoulder higher than the other.
As the defeated foe, Richard was given a low-key burial in the Franciscan friary of Greyfriars. This was demolished in the 1530s, but documents describing the burial site have survived. The excavation, which began on 25 August, has uncovered the remains of the cloisters and chapter house, as well as the church. The bones were lifted by archaeologists wearing forensic body suits in an effort to limit contamination by modern materials.
The tests are expected to take about 12 weeks to complete. If their identity is confirmed, Leicester Cathedral said it would work with the Royal Household, and with the Richard III Society, to ensure the remains were treated with dignity and respect and reburied with the appropriate rites and ceremonies of the church.
Do you think the bones these archaeologists dug up in Leicester really belonged to King Richard III? Share your thoughts and opinions with us!
Source: BBC News
Image: CBC News