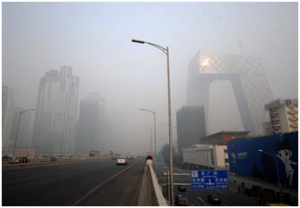 Thick haze shrouding Beijing forced authorities to cancel flights and close expressways, state media reported Monday. The Beijing Capital International Airport canceled more than 200 incoming and outgoing flights and delayed more than 125 others Monday afternoon, the state-run Xinhua news agency said.
The state-run China Daily newspaper, citing Beijing's weather officials, said melting snow made the air wet and caused heavy fog that "crippled traffic, delayed flights and created obstacles in the highways in many places of North China since Saturday."
Last month, when many official reports in Chinese state-run media referred to the air as being filled with "fog," the government acknowledged that the haze was due to smog. While "fog alerts" are declared, "Ma Jun, director of the Institute of Public and Environment Affairs, said the hazes that have been smothering Beijing are really 'smog,'" the state-run China Daily reported in November.
Online monitoring from the U.S. Embassy in Beijing described the air quality as "hazardous" at numerous intervals throughout the day Sunday and Monday. Beijing's municipal environmental protection authority said Monday's air pollution was "moderate," Xinhua reported. Chinese state media reports warned of traffic gridlock and poor visibility, but they did not mention health concerns.
Experts have blamed the thick haze on rapid urbanization and industrialization. Beijing, for instance, burned some 27 million tons of coal in 2010, according to state-run media. Pollution is more acute because of the sheer size of the city's population (17 million) and the rapid speed of its economic growth, experts say.