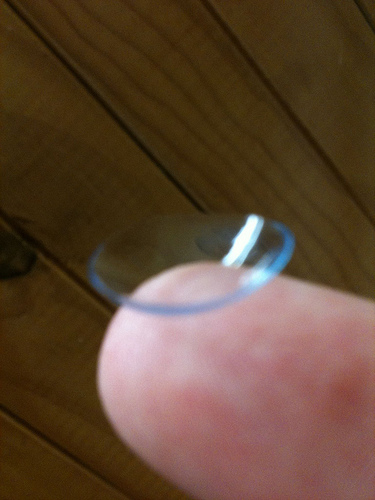 More than 80% of contact lens wearers surveyed prior to an eye exam believed they followed good lens wear and care practices, but just 2% actually complied with most recommended lens hygiene steps.
American Optometric Association (AOA) spokesman Randall Fuerst, OD, says one of the most common causes of contact lens-related complications is failure to replace contacts as recommended. When wearers use lenses longer than recommended or don't follow proper handling and storage practices, there is a greater likelihood of deposit buildup that can lead to chronic eye redness or infection.
Among the other AOA recommendations: Always wash and dry your hands before handling contact lenses. Clean lenses often, as recommended by your eye doctor.  Use only fresh solution every time to clean and store contacts. Never use tap water in any area of lens care, including rinsing the lens and lens case. Store lenses in the proper lens storage case and replace your case at least every three months. Never swim in lenses or wear them in a hot tub.
Fuerst also recommends that people who choose to sleep in their contact lenses use a wetting drop made for contact wearers before going to bed at night and upon waking in the morning. Most lenses sold today are approved for a seven-day continuous use, but some newer lenses have been approved for 30-day use. Fuerst says people who do not take their contacts out for extended periods need to be especially vigilant about "listening to their eyes."