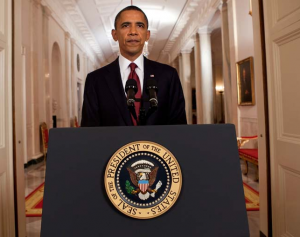 A group of former U.S. military and intelligence officers, including retired Navy SEALs, appear in a 22-minute documentary, "Dishonorable Disclosures," that was released on Wednesday asserting that the Obama administration has leaked considerable classified intelligence about the raid that killed Osama bin Laden for political gain.
In fact, U.S. President Barack Obama and his national security team made every effort — successfully — to keep the intelligence about bin Laden a closely held secret for almost a year, from the time they first identified what they believed might be the al Qaeda leader's hideout in the city of Abbottabad, Pakistan, in August 2010 until May 1, 2011, when the raid was launched to kill him.
What precipitated the operation going public was not Obama's announcement of the raid but the crash of one of the Black Hawk choppers used in the raid, which turned what had hitherto been a covert operation into a very public event. During his speech to the nation and world, Obama did not divulge the name of SEAL Team Six, saying only that a "small team of Americans carried out the operation with extraordinary courage and capability." And the SEALs have hardly kept a low profile of late, cooperating in a movie "Act of Valor" that was released in theaters this year, which actually featured real SEALs playing the parts of the heroes of the movie.
It is just plain wrong that anyone in the U.S. government leaked the name of the CIA asset in Pakistan, Dr Shakil Afridi, who was recruited by the agency in its quest to find bin Laden. This information first surfaced in a story in the Guardian newspaper in July 2011 after Afridi was arrested by the Pakistani intelligence service, ISI. It is obvious that this information was leaked not by the Americans but the Pakistanis who have done their own investigation of the bin Laden raid, which embarrassed them considerably.
As to the notion that Obama has taken too much credit for the bin Laden raid, well he is commander-in-chief, and it was entirely his decision to launch the risky raid on Abbottabad based on the only fragmentary intelligence that bin Laden might be there.
Do you agree with this article? Or do you still think that the allegations against U.S. President Barack Obama in "Dishonorable Disclosures" are true?
Source: CNN
Image: Mashed Potato Bulletin