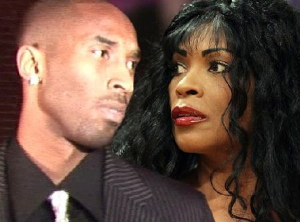 Kobe Bryant has some legal drama with his momma. The Philadelphia Inquirer's Jane M. Von Bergen reports on a cease-and-desist letter Bryant's legal team sent to Goldin Auctions L.L.C. of West Berlin—an auction house that was set to sell off a reported $1.5 million worth of Bryant memorabilia his mother claims ownership to.
'Clarify the ownership'
The 42 items of merchandise, which include several Lower Merion uniforms worn by the player and two 2000 Lakers Championship rings designed for his parents, were to go up for auction in June, each authenticated as genuine by Pamela Bryant.

In a tale of what can happen when adult children move on but leave behind their "treasures," Goldin filed suit asking the judge to clarify ownership of the memorabilia and clear the way for the auction.
'Personal property'
According to the report, Pamela Bryant is in Thailand with Bryant's father, Joe "Jellybean" Bryant, who now coaches a basketball team there. She was contacted by Goldin and assured the auction house that she was the rightful owner of the memorabilia and the auction should proceed as planned—an understandable response, as the report issues:
"Pamela Bryant has received a pre-auction consigning fee of $450,000 and has used it to buy a house."
The auction company that is suing for a clear determination of the product's ownership released a statement by their founder, Ken Goldin:
"Normally, items like these can only be viewed in a museum or the Hall of Fame. We are honored to be able to make these offerings to collectors around the world."
While Bryant has yet to speak publicly on the matter, his legal team, headed by Mark Campbell, released a brief statement:
"Mr. Bryant's personal property has ended up in the possession of someone who does not lawfully own it."
Do you think Pamela Bryant has the right to sell Kobe Bryant's memorabilia? Who has the upper hand in this feud — The Black Mamba or The Momma Mamba?
Source: Gabe Zaldivar, Bleacher Report
Image: Eben Gregory