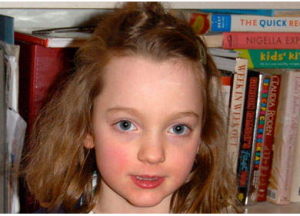 Most of us made money selling lemonade when we were young, but not little Eve Hobsbawm. She's eight years old, and she's already a life coach in the making. She has her own website, called EveProblemSolver.com, which describes itself as, "A problem-solving consultancy founded by Miss Evie Mouse." Most adorably useful business ever!
Eve, who lives in London, says she was inspired by her dad, who owns a tech start-up. It was equally easy to come up with the kind of business she wanted to start. She thought about it for a while, and, "Then it just popped into my head: problem solving." Voila! Her first customer came last December, back when Eve was only seven:
The first person I exchanged business cards with said her husband was really annoying. So I said: "It all cancels out. You might do stuff to him that's also really annoying." She was really impressed.
And now you can get that same kind of insight into your own problems. Eve will help you with whatever is troubling you, but she does warn you at the outset that some problems like "Does space ever end?" and "I have a relative who died, can I get her back?" cannot be solved. She specializes in "Problems about love, life, and work-balance." She does not, however, help with school work questions.
Her prices vary depending on the difficulty of your problem. Hard problems run £1 (or about $1.50), with "everyday problems" running even cheaper than that.
Source: Digg
Image: The Mellow Jihadi