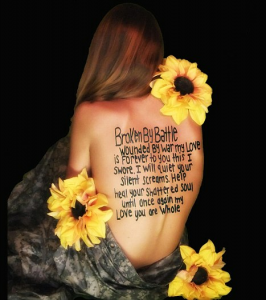 Ashley Wise's husband Rob is about as tough as they come. The career soldier spent 8 years in the Marines before joining the Army after 9/11 and serving on two tours of duty in Iraq, but in April this year, he hit a wall. He locked himself in a hotel room with guns and alcohol and told his wife "he might do something stupid."
Thankfully, he came back home alive. Ashley reached out to the Family Advocacy Service at Fort Campbell, Kentucky, where they are currently stationed, and discovered that, like many other soldiers who are suffering from mental anguish or who might have Post Traumatic Stress Disorder (PTSD), finding the help he needed without putting his career in jeopardy would be a struggle.
Wise told a girlfriend, "I want to streak across the 101st command building, because then maybe the general or someone would listen to what I'm saying." Instead she grabbed an eyeliner pencil and had her friend write these words on her back:
"Broken by battle, Wounded by war,
I love you forever, To you this I swore:
I will quiet your silent screams, Help heal your shattered soul
Until once again, my love, you are whole."
Wise posted a picture of her naked back on Facebook, invited other military wives to share images of themselves, and the organization Battling Bare was born. Now, just two months later, Wise is working with seven other military wives to launch a non-profit organization to raise awareness about PTSD and the impact it has on spouses and children. In three years, they aim to have a chapter in every state in place to support military families and hold workshops based on a model developed by Operation Restored Warrior.
Do you know someone who suffers from PTSD? What do you think of Battling Bare's campaign for awareness?
Image: The Daily Mail