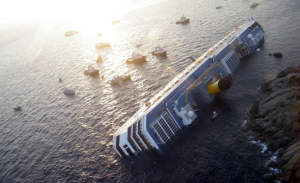 The terrifying, chaotic escape from the luxury liner Costa Concordia was straight out of a scene from "Titanic" for many of the 4,000-plus passengers and crew on the cruise ship, which ran aground off the Italian coast late Friday and flipped on its side with a 160-foot (50-meter) gash in its hull. At least three bodies were recovered. Close to 40 others remain unaccounted for.
The Friday the 13th grounding of the Concordia was one of the most dramatic cruise ship accidents in recent memory.  Costa Crociera SpA, which is owned by the U.S.-based cruise giant Carnival Corp., defended the actions of its crew and said it was cooperating with the investigation. Carnival Corp. issued a statement expressing sympathy that didn't address the allegations of delayed evacuation.
The captain, Francesco Schettino, was detained for questioning by prosecutors, investigating him for suspected manslaughter, abandoning ship before all others, and causing a shipwreck, state TV and Sky TV said. Prosecutor Francesco Verusio was quoted by the ANSA news agency as saying Schettino deliberately chose a sea route that was too close to the beach shore. Despite some early reports that the captain was dining with passengers when his ship crashed into the reef, he was on the bridge, top Costa executive Gianni Onorato said.
Costa Cruises said about 1,000 Italian passengers were on board, as well as more than 500 Germans, about 160 French and about 1,000 crew members. The State Department said about 126 U.S. citizens were also on board the tour.
Source: Yahoo! News
Image: International Business Times