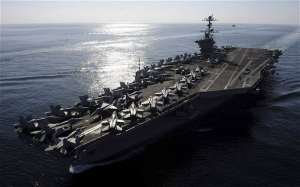 Flanked by British and French ships as backup, the USS Abraham Lincoln aircraft carrier moved through the Strait of Hormuz without incident Sunday despite recent threats from Iran.
The U.S. Naval Forces Central Command said in a statement that the Lincoln "completed a regular and routine transit of the strait … to conduct maritime security operations." The Lincoln is in the region with the USS Carl Vinson, giving the U.S. Navy its standard two-carrier presence there.
Several weeks ago, as the USS John Stennis left the Persian Gulf and headed back to the western Pacific, Iranian officials warned the United States not to send in another carrier. Tehran has threatened to close the Strait of Hormuz, the only outlet to and from the Persian Gulf between Iran and the United Arab Emirates as well as Oman, as Iran faces increased scrutiny over its nuclear program and possible sanctions on its oil exports. The critical shipping lane had 17 million barrels of oil per day passing through in 2011, according to the U.S. Energy Information Agency.
U.S. Defense Secretary Leon Panetta has responded by threatening to "respond" if Iran attempts to shut down traffic. He said that the U.S. naval and military presence in the region will not change and the current level is sufficient to deal with any situation that could arise.
Source: CNN
Image: The Telegraph