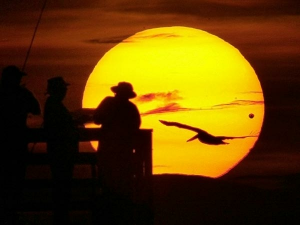 Planet Venus is putting on a show for skywatchers by moving across the face of the Sun as viewed from Earth. The transit is a very rare astronomical event that will not be seen again for another 105 years.
Observers in north and central America, and the northern-most parts of South America saw the transit begin just before local sunset. The far northwest of America, the Arctic, the western Pacific, and east Asia will witness the entire passage. The UK and Europe, the Middle East, and eastern African must wait for local sunrise to see the closing stages of the transit.
Venus appears as a small black dot moving slowly but surely across the solar disc. Many citizens keen to get a view of the transit themselves have been attending special events at universities and observatories where equipment for safe viewing has been set up. For others, internet streams have provided an easy way to follow Venus's slow trek. Scientists have been observing the transit to test ideas that will help them probe Earth-like planets elsewhere in the galaxy, and to learn more about Venus itself and its complex atmosphere.
Venus transits occur four times in approximately 243 years; more precisely, they appear in pairs of events separated by about eight years and these pairs are separated by about 105 or 121 years. The reason for the long intervals lies in the fact that the orbits of Venus and Earth do not lie in the same plane and a transit can only occur if both planets and the Sun are situated exactly on one line.
This has happened only seven times in the telescopic age: in 1631, 1639, 1761, 1769, 1874, 1882 and 2004. Once the latest transit has passed, the next pair will not occur until 2117 and 2125.
Do you think the 2012 Transit of Venus is significant? Share your thoughts with us!
Source: BBC News
Image: National Geographic