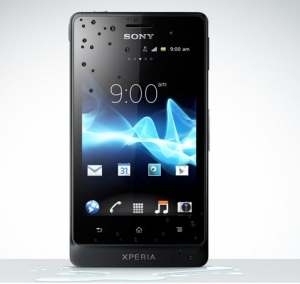 Sony announced two waterproof smartphones on Wednesday. They both run dual-core processors, but one of the new handsets will ship with an outdated version of Google's Android operating system.
The Xperia Go and the Xperia Arco S are both set for release in the third quarter of this year, though Sony officials haven't yet said how much the phones will sell for when they launch. The Xperia Go, which will be called the Xperia Advance in the U.S., will ship running Android 2.3 (Gingerbread), though an upgrade to Android 4 (Ice Cream Sandwich) is promised.
The Go is aimed decidedly at the low-end of the smartphone market, with a 3.5-inch touchscreen sporting a 480×320 resolution. Inside, the Go will house a 1GHz dual-core processor and a 5MP rear camera. The Go will be sold in either black, white or yellow.
The Arco S is aimed toward the high-end, with a 1.5GHz dual-core CPU, NFC connectivity, a 12MP rear camera and a 4.3-inch 720p display. The Arco S will be offered in black, white and pink. Both the Go and the Arco S feature scratch resistant screens and, impressively, the ability to track finger input even when covered in water — something most waterproof gadgets can't do.
Do you like the new waterproof smartphones by Sony? Tell us what you think of these products!
Source: Digg
Image: Gadget