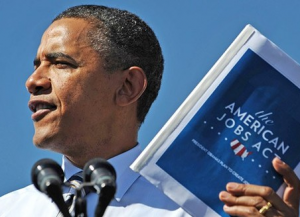 Senate Republicans on Thursday blocked the No.1 item on the president's congressional "to-do-list," refusing to allow a vote on a bill that would give tax breaks for companies that "insource" jobs to the U.S. from overseas while eliminating tax deductions for companies that move jobs abroad.
In voting against the bill, Republicans raised both substantive and procedural problems with the measure. With job creation the top issue this campaign season, and outsourcing being blamed as a big contributor to the high unemployment rate, Democrats saw the bill as an election-year winner. Sponsored by Sen. Debbie Stabenow, D-Michigan, who is running for reelection, the bill made it to the top of the "to-do list" for Congress President Barack Obama unveiled earlier this year.
The Bring Jobs Home Act would provide a 20% tax break for the costs of moving jobs back to the United States and would rescind business expense deductions available to companies that are associated with the cost of moving operations overseas.
In a letter to senators this week, the Chamber of Commerce called the bill "misguided" and said it "would hamper American worldwide companies' competitiveness, increase complexity in the Internal Revenue Code, and threaten economic growth." The Chamber said it would count how senators voted on this motion in their annual "How they Voted" scorecard.
Are you for or against the Bring Jobs Home Act? Would this bill have been beneficial or detrimental to the American economy? To the world? Feel free to voice out your opinions about this issue in the comment box below!
Source: CNN
Image: Ology