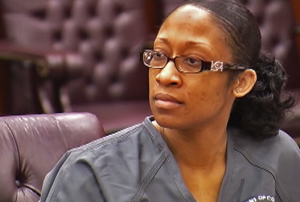 Saying he had no discretion under state law, a judge sentenced a Jacksonville, Florida, woman to 20 years in prison Friday for firing a warning shot in an effort to scare off her abusive husband.
'Persecuted because of her race'
Marissa Alexander unsuccessfully tried to use Florida's controversial "stand your ground" law to derail the prosecution, but a jury in March convicted her of aggravated assault after just 12 minutes of deliberation. The case, which was prosecuted by the same state attorney who is handling the Trayvon Martin case, has gained the attention of civil rights leaders who say the African-American woman was persecuted because of her race.
State Attorney Angela Corey said she had offered Alexander a plea bargain that would have resulted in a three-year prison sentence, but Alexander chose to take the case to a jury trial, where a conviction would carry a mandatory sentence under a Florida law known as "10-20-life."
'Reasonably threatened'
The law mandates increased penalties for some felonies, including aggravated assault, in which a gun is carried or used. Corey said the case deserved to be prosecuted because Alexander fired in the direction of a room where two children were standing. Alexander said she was attempting to flee her husband, Rico Gray, on August 1, 2010, when she picked up a handgun and fired a shot into a wall. She said her husband threatened to kill her, so she fired one shot.
Alexander's attorneys tried to use the state law that allows people to use potentially deadly force anywhere they feel reasonably threatened with serious harm or death. But a previous judge in the case rejected the request, saying Alexander's decision to go back into the house was not consistent with someone in fear for her safety, according to the Florida Times Union newspaper.
Do you agree with the 20-year jail sentence given to Marissa Alexander? Why or why not?
Source: CNN Wire Staff | CNN
Image: Political Blind Spot