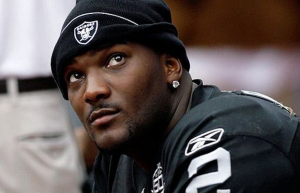 One of the biggest draft busts in NFL history is trying to re-kindle his football career. Yahoo! Sports has learned that JaMarcus Russell is planning a comeback attempt that he hopes will see him play in the league again. The former No. 1 pick in the 2007 NFL draft has not played a single NFL snap since the 2009 season with the Oakland Raiders.
'Overcoming himself'
The reclamation of Russell will follow a tricky road for a quarterback who was always known more for his physical blessings than technique. Russell, 27, who has effectively been out of football since tryouts with the Washington Redskins and Miami Dolphins in 2010, might find overcoming himself his biggest challenge. Currently at 308 pounds, Russell is down from the 320 pounds he weighed this past fall and has been focusing on cardio conditioning the past six weeks to lose the weight.
'Make amends'
"The last few years, the things going through my life, football is my job and it is how it feeds my family. People would say [that] I didn't love the game but that pisses me off. People don't know the real you but I want people to know the real me and see what I can do. People are always saying that I'm a bust. I want show them I'm not. I'm committed to this now," Russell said.
A former top pick, Russell never fulfilled his boundless athletic promise, including a 6-foot-6-inch 265 pound frame that looked more like that belonging to a tight end than someone under center. Complicating a comeback from a less than storied NFL career is the fact that Russell will need to overcome the negative perception stemming from his July 2010 arrest for codeine syrup without a prescription. He has taken steps to make amends for his mistakes, including frequently speaking to youth groups about his poor choices and arrest.
Do you think JaMarcus Russell will be successful in his comeback attempt? Will you be cheering for him?
Source: Kristian Dyler, Yahoo Sports
Image: Complex