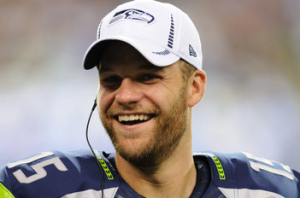 After spending 2012 waiting in the wings behind rookie Russell Wilson, quarterback Matt Flynn has a new lease on his NFL life for 2013 and beyond.  The Seahawks have traded Flynn to the Raiders, ending his short stay in Seattle while marking Oakland's latest effort to solve its inconsistent play under center.
'Spectacular single-game performance'
Seattle made Flynn one of its top priorities during the 2012 NFL free-agency period, signing him to a three-year contract worth up to $26 million, with $10 million guaranteed over the duration of the deal (per ESPN).
The high-priced deal came on the heels of a spectacular single-game performance by Flynn. In the Green Bay Packers' season finale in 2011, the impending unrestricted free agent threw for 480 yards and six touchdowns and secured himself a hefty raise in the process (per ESPN).
'Wild-card berth'
Seattle fully expected Flynn to capture the starting role, but Wilson had other plans. The rookie out of Wisconsin took head coach Pete Carroll and the Seattle coaching staff by storm in training camp and the preseason to win the job outright. Carroll's decision to go with Wilson paid immediate dividends, as the undersized signal-caller led the team to an 11-5 finish and a wild-card berth in the NFL playoffs.
Despite throwing just nine passes in three games of mop-up duty last season, Flynn is still regarded as one of the league's best young quarterbacks, and should thrive with consistent playing time.
Do you think Matt Flynn will win a lot of games in 2013? Was the trade a good move for both Raiders and Seahawks?
Source: Ethan Grant, Bleacher Report
Image: SB Nation