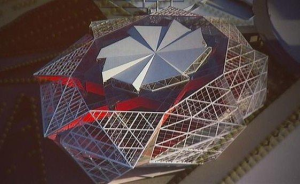 On the heels of a year in which Atlanta hosted the SEC championship game, the NFC Championship Game and the 2013 NCAA Final Four, officials are doing everything in their power to ensure that Atlanta is a premier destination for any kind of sporting event that can be held in a stadium.
'Futuristic adaptation'
As Max Blau of CLATL.com reported, potential options for a new stadium have started to leak out, and include different mock-ups that designers are presenting to interested parties as the process continues to move forward.  One is a "Pantheon" look, a futuristic adaptation of a domed stadium. Another is a "Solarium" approach, one that features a retractable roof and is more along the lines of what we've seen with new stadiums that have been built over the past few years.
'100-yard bar'
The team and the Georgia World Congress Center Authority struck a deal with 360 Architecture, the Kansas City-based company, to head up the project, which is expected to be completed in time for the Falcons' opening game in 2017 (h/t The Atlanta Journal-Constitution). 360 Architecture is the same group in charge of the blueprint for MetLife Stadium, the current home of the New York Jets and Giants.
If early drawings and ideas from the company's presentation are any indication, this new home for the Falcons could blow every other NFL stadium (including Jerry Jones' creation for the Dallas Cowboys) out of the water. Some of those ideas include a "100-yard bar," an IMAX-like setup for fans who are sitting in the cheap seats, a "man cave" for patrons who want to feel like they are still at home watching the game and seats that actually vibrate when a big hit happens on the field.
Do you like the concept for the Atlanta Falcons' new stadium? Which would you favor — the Pantheon or the Solarium?
Source: Ethan Grant, Bleacher Report
Image: Fan IQ