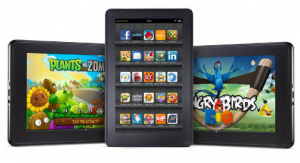 The Kindle Fire is crushing standard Android tablets in market share after only three months, according to data collected by Flurry Analytics.
Measured in application sessions on Android from November 2011 to January 2012, the Kindle Fire went from a 3 percent market share to 36 percent, while the Samsung Galaxy Tab, a brand that has been on sale for over two years, dropped from 64 percent market share to 36 percent.
According to Amazon, over 4 million Kindle Fires were sold in the month of December despite its lukewarm reception. These sales were enough to give the device close to a third of the Android tablet market, as the shares of the Motorola Xoom, Asus Transformer, and Acer Iconia Tab dropped to a collective 18 percent. The Kindle Fire made an even better showing in paid app downloads, representing 2.53 app downloads from a 5-app sample of top sellers for every one downloaded on a Galaxy Tab.
The Kindle Fire also likely owes much of its success to its $199 price, hundreds of dollars below the rest (the other tablets listed here have starting prices of $350 and higher). Flurry also attributes the Kindle Fire's growth to Amazon's focus on an ecosystem and content for users, an approach closer what Apple uses for the iPad, rather than focusing on hardware specs.
Source: Digg
Image: The Tech Labs