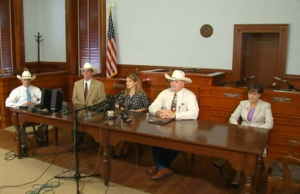 A grand jury in Texas has decided not to indict a father who beat to death a man he found allegedly sexually abusing his young daughter.
"Under the law, deadly force is justified to stop a sexual assault," Lavaca County District Attorney Heather McMinn said on Tuesday at a press conference announcing the grand jury's decision. "All the evidence presented by the sheriff's department and the Texas Rangers indicated that was in fact what was occurring when the victim's father arrived at the scene."
Jesus Mora Flores was beaten to death on June 9 in Shiner, Texas, after the 23-year-old father allegedly discovered the 47-year-old Flores in a pasture on the family's ranch on top of his 5-year-old daughter with his pants and underwear down. (News organizations, including Yahoo News, are not naming the father in order to protect the identity of his daughter.)
A witness who saw Flores—a Mexican who legally worked at the ranch—"forcibly carrying" the girl into a secluded area of the property alerted the father, who followed his daughter's screams to the pasture, pulled Flores off her, and "inflicted several blows to the man's head and neck area." After beating Flores, the father called 911: "I need an ambulance," the father told the dispatcher, according to 911 tapes released by police. "This guy was raping my daughter and I beat him up and I don't know what to do. This guy is fixing to die on me, man, and I don't know what to do!"
Emergency workers, as well as the daughter's grandfather and aunt, tried to revive Flores but could not. Lavaca County Sheriff Micah Harmon said he found the distraught father crying, saying that he had not intended to kill Flores. The case has sparked a debate about whether the killing was justified. Local residents in Shiner—which has a population of about 2,000—supported the father.
In your opinion, did Flores deserve to die for what he did? Was the grand jury right in not indicting the young father?
Source: Yahoo News
Image: Mike Cornelison