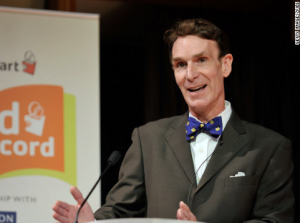 In a clip posted to online knowledge forum Big Think via YouTube, former children's show host Bill Nye spoke out against the denial of evolution, saying such views harm young people especially and hamper scientific progress.
Nye, who hosted the educational show "Bill Nye the Science Guy," which aired on PBS Kids from 1993 through 1998, made the statements in a clip posted online on Thursday, and has since been viewed over one million times. In the clip, Nye praises the United States for its contribution to technological innovation, but says that the denial of evolution is unique to the country.
"Evolution is the fundamental idea in all of life science, in all of biology. It's like, it's very much analogous to trying to do geology without believing in tectonic plates. You're just not going to get the right answer. Your whole world is just going to be a mystery instead of an exciting place," he added.
Nye then goes on to urge adults not to deny the teaching of evolution to young people: "And I say to the grownups, if you want to deny evolution and live in your world, in your world that's completely inconsistent with everything we observe in the universe, that's fine, but don't make your kids do it because we need them. We need scientifically literate voters and taxpayers for the future. We need people that can – we need engineers that can build stuff, solve problems."
Do you agree with Bill Nye's viewpoint? Should parents stop teaching Creationism to their kids and focus on Evolution instead? Tell us your views about this topic!
Image: CNN Belief Blog