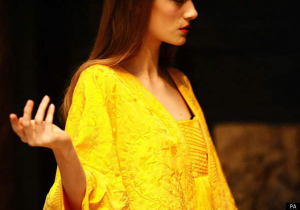 A golden cape woven from the silk of 1.2 million Golden Orb spiders has gone on display at the Victoria and Albert Museum in London.
Using long poles, a team of 80 people worked to collect the spiders from their webs each day and harvest their silk before returning them to the wild. The project was the brainchild of American fashion designer Nicholas Godley and British art historian and textile expert Simon Peers, who have both lived in Madagascar for many years.
Scaling the project up proved a huge challenge — only female Golden Orb spiders make silk. Hundreds of thousands of them were needed, and their cannibalistic nature meant the creatures had to be separated to prevent them from eating their neighbors. Godley admits that the properties of spider silk — and the practicalities and costs involved — mean that industrial-scale production for use in textiles is unlikely ever to succeed. Instead, they simply wanted to prove that it could be done, and to create two items which could help revive traditional Malagasy weaving techniques and embroidery skills, and to showcase the talents of people working on the island.

Whorush:
6 sites by this AdSense ID

The four-meter-long brocade scarf, which was first shown at New York's Natural History Museum in 2009, was created using old Malagasy patterns, but as Godley points out, the inspiration for the cape, which made its debut at London's V&A Museum today, came from the spiders themselves. The cape is covered in images of spiders, plants and flowers, which took 6,000 hours to embroider, and those lucky enough to get up close have discovered that it is virtually weightless.
But despite working so closely with them for so many years, Godley admits he is still afraid of spiders.
Source: CNN
Image: Huffpost Culture