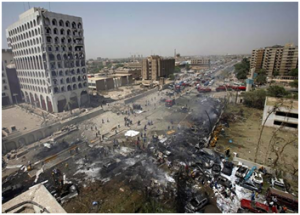 A wave of explosions across Baghdad killed dozens of people Thursday and spread fears that Iraq's government could collapse in the wake of the U.S. military's departure. At least 65 people were killed and at least 196 were wounded in 20 explosions just days after the final U.S. troops withdrew, police said.
The attacks targeted civilians across all walks of life. One took place at a market. Another, at a school as children were arriving. A third was at a coffee shop. The attacks were a painful reminder of Iraq's most violent years.
The seemingly coordinated explosions Thursday struck during the height of morning rush hour, hitting a number of Baghdad's primarily mixed Sunni-Shiite neighborhoods. Nine car bombs, six roadside bombs and a mortar round all went off in a two-hour period, targeting residential, commercial and government districts in the Iraqi capital, two police officials told CNN. There have been no immediate claims of responsibility, though the attacks resemble previous bombings that have been claimed by both Sunni and Shiite insurgents as well as al Qaeda in Iraq.
The deadliest attack was a suicide car bombing outside the offices of the Integrity Commission, the country's main anti-corruption body. At least 23 people were killed and 43 others were wounded in the explosion, which also damaged part of the building, police officials said.
The violence comes as Iraq's Shiite, Sunni and Kurdish political leaders square off over a warrant issued for the arrest of Vice President Tariq al-Hashimi, who is accused of organizing his security detail into a death squad that targeted government and military officials.
Source: CNN.com
Image: msnbc.com