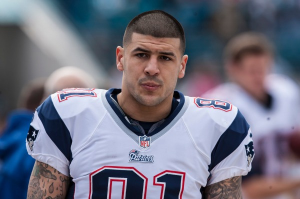 New England Patriots tight end Aaron Hernandez reportedly has an arrest warrant issued for obstruction of justice.
'Smashed intentionally'
ABC News' Michele McPhee provides an interesting update on the state of Hernandez's security system and cell phone:
The investigator, and other law enforcement sources, confirmed that the security system—which included video surveillance—was smashed intentionally… And a cell phone used by Hernandez was handed over to investigators "in pieces" by his attorneys, the sources said.
A law enforcement source told FOX 25 Wednesday night Hernandez appears to be directly tied to the homicide of Odin Lloyd… FOX 25's Bob Ward's sources have confirmed that there is video evidence of Hernandez and two other men wearing hooded sweatshirts walking into Hernandez's home within minutes of neighbors hearing gunshots… Just about an hour before Hernandez was caught on video walking into his home, Hernandez was seen at Lloyd's home in Dorchester.
'Paper warrant'
A source told FOX 25's Bob Ward that the warrant, for obstruction of justice, was issued early Friday morning. The source says the warrant is what is known as a "paper warrant." State Police are not executing it for the time being. If the warrant were entered into the system, any police officer could immediately arrest Hernandez.
Police reportedly developed an interest in questioning Hernandez after a rental car became an integral piece of evidence in the murder of a 27-year-old Boston man, whose body was found on Monday within a mile of Hernandez's home. It's unclear whether he was murdered in that location or dropped there.
What is the main involvement of Aaron Hernandez in this homicide case? Feel free to share your speculations with us!
Source: Tyler Conway | Bleacher Report
Image: Sports Illustrated