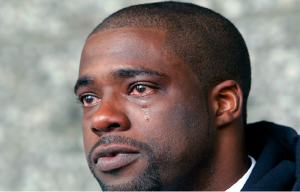 Based on what we now know, it's pretty easy to create an alternate universe in which former high school star linebacker Brian Banks goes to a major college, becomes a stud at the NCAA level, and then goes on to make a pretty serious dent in the NFL. Of course, none of that ever happened, because when Banks was 16 years old, he was accused and then convicted of a rape he didn't commit.
He spent five years in prison after pleading no contest to the charge, and spent five more years on probation. It wasn't until last year, when the woman who accused him of the crime requested that he become her friend on Facebook, that Banks had his way to exoneration. Banks agreed to meet with his false accuser, got her recorded admission that the charges were not real, and finally saw all charges dropped and his freedom regained last week.
Now, it seems that several NFL teams want to give Banks the shot he never had before. On Wednesday, the Seattle Seahawks confirmed to Yahoo! Sports that they will bring Banks in for a workout on June 7, and at least three other teams — the Kansas City Chiefs, Washington Redskins and Miami Dolphins, according to ESPN.com — are looking to bring Banks in to see what he might have in the tank.
Banks, who has been working out six days a week in preparation, just wants a chance. "Let me show you what I can produce," Banks recently told the "Today" show when asked about his NFL dreams. "I think that any team that gives me an opportunity will be really impressed with what I can do."
"It's been a struggle. But I'm unbroken, and I'm still here today," Banks said upon his exoneration. No matter your team affiliation, it's just about impossible not to root for him.
Should Banks sue his false accuser for the ten years of injustice that he had suffered? Tell us your opinions!
Source: Yahoo News
Image: Uptown Magazine